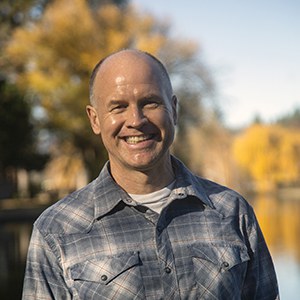 The Land Trust is sad to share the news that conservation director Brad Nye will be leaving the Deschutes Land Trust to join the Oregon Desert Land Trust. Brad has been with the Land Trust since 2001 and has been a tremendous asset to the organization. He has been a highly valued collaborator with landowners, funders, donors, and partners as he has worked to protect salmon habitat and other vital natural resources in Central Oregon. As deputy director and second staff member of the Oregon Desert Land Trust, Brad is looking forward to building new conservation efforts from the ground up. The Land Trust wishes him the best on his new adventure, and we know his knowledge and expertise will continue benefiting conservation in our region!



As Brad transitions out, we are pleased to share that Natasha Bellis will rejoin Deschutes Land Trust as our new conservation director! Natasha spent two years with us as a conservation associate and the past five-plus years as a program manager with the Deschutes River Conservancy (DRC). Natasha brings land conservation experience as well as a deep background in water conservation. In her work at the DRC and as coordinator of the Deschutes Partnership, Natasha has built and maintained strategic relationships with diverse stakeholders including agencies, tribes, and private land owners. Her experience in that role as well as her strong working relationship with our outgoing conservation director will enable her to move seamlessly into her new role at the Land Trust. As Natasha and Brad are each committed to finishing out current projects with their respective organizations, Natasha will officially join the Land Trust in August. In the meantime, she and Brad will be working on a smooth transition into their new positions.

We can't thank Brad Nye enough for all he's done for Deschutes Land Trust. We wish him well and look forward to future collaborations. And a warm welcome to Natasha Bellis—a great addition to the Land Trust team!