Last month the Grandview Fire started northeast of Sisters and just north of the Land Trust's Rimrock Ranch. The fire quickly grew to 6,200 acres and evacuation notices were issued for Rimrock Ranch and several nearby neighborhoods. Firefighters characterized fire behavior as unprecedented and unresponsive to normal tactics. They found themselves having to use all firefighting tools at their disposal simultaneously: bulldozer lines, water drops, and retardant. (Watch the video below to see how the fire progressed.) The fire provided a stark reminder of the climate crisis and our region's extreme drought.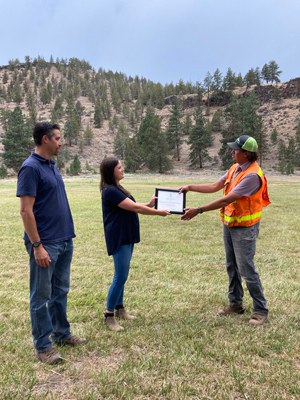 We know many of you were under evacuation notices and/or watching the progress of the fire very closely. Thankfully, firefighters were able to get the fire under control and the Land Trust is incredibly grateful that no structures were lost at Rimrock Ranch or for our neighbors. We owe a huge debt of gratitude to everyone involved in fighting this wildfire: Oregon Department of Forestry, the Forest Service, and local fire units. We'd also like to thank the crew from Crestline Construction who were at Rimrock Ranch working on the creek restoration. They used their heavy equipment to help fight the fire shortly after it was reported. Finally, we'd like to thank our neighbors who came together as a community with the Land Trust to share fire communications!




Fire Impact at Rimrock Ranch
Land Trust staff were able to visit Rimrock Ranch on July 21st to see how the property fared during the fire. The Grandview Fire burned along the northern boundary of Rimrock Ranch in sagebrush and juniper habitat (see map below), and fire lines were built on the property to help keep the fire from spreading into Rimrock Ranch and nearby neighborhoods. Though staff are currently mapping and estimating costs associated with restoring the impacted portions of the property, here is what we know (see photos in the video above):
Sagebrush and grassland habitat is adapted to fire. The portions of Rimrock Ranch that burned, but were not impacted by fire lines, will hopefully recover naturally. We will monitor them to see if they need a leg up with reseeding and control of non-native weeds.
In some places, fire crews were able to contain the fire with small, hand-built lines. These lines will need to be replanted to help prevent the spread of non-native weeds.
In other places, firefighters needed to build wide, bulldozer lines for containment. These lines will need to be reseeded as well, and many of the compacted bulldozer lines will need to be decompacted before spreading native seed and planting new native plants.

We anticipate these restoration efforts will cost around $20,000, and we will hopefully host some volunteer work parties this fall to help with planting. If you'd like to donate to help restore the portions of Rimrock Ranch that were impacted by the Grandview Fire, please donate online.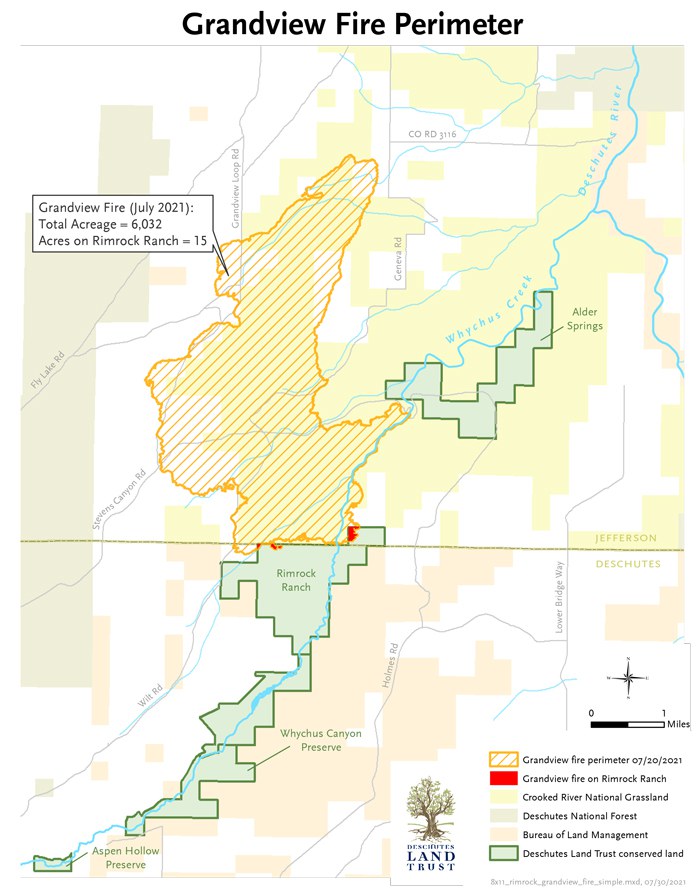 Learn more: