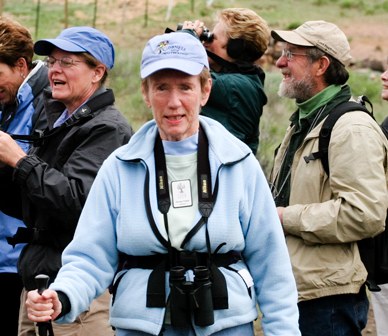 It is with great sadness that we note the passing of Norma Funai.

A long-time neighbor of Indian Ford Meadow Preserve, Norma joined the Land Trust as one of our earliest supporters in 1997 and then started volunteering in 1999. Norma was a retired teacher and a long-time champion of environmental education who saw a need in those early days for sharing the Land Trust's mission with the broader community.

In 1999, Norma gathered other volunteers to plan a natural history tour program that would offer tours of Land Trust protected lands to the public. Norma would become one of our first outing leaders and continued to lead tours for the Land Trust until 2014. She enjoyed birding, botanizing, and exploring with adults and children as often as she could. Her trips were always enlightening and enjoyable, and Norma possessed a unique knack for educating and inspiring local residents and visitors about the wonders of nature.

When Norma started our tour program in 1999, the Land Trust offered a handful of tours of Land Trust protected lands. Today, we offer more than 150 tours a year connecting more than 1,000 people each year to the wonders of the natural world. Many of our supporters have chosen to donate or volunteer with the Land Trust because of an experience they had out on the land with skillful leaders like Norma Funai. She helped so many people develop a sense of wonder, a sense of place in Central Oregon, and a sense of responsibility to work together to protect the natural world.

Norma was the Land Trust's Volunteer of the Year in 2001 and was recognized with a Lifetime Achievement Award in 2008. In 2009, Norma was awarded an Oregon Governor's Lifetime Achievement Award for her service to the Land Trust.

A thousand thanks to Norma for all her dedication and commitment to the Land Trust. We will miss her tremendously!