The Deschutes Land Trust has been a long-term partner in the reintroduction of salmon and steelhead in the upper Deschutes River region. Over the years, our reintroduction partners have adjusted and experimented with a variety of tactics to help bring back healthy and sustainable populations of these important fish. However, adult spring Chinook returns to the areas where they have been reintroduced have been low, not unlike many river systems across the Pacific Northwest. However, there are lots of opportunities for positive change ahead.

First, let's take a look at what spring Chinook need to survive and thrive. Spring Chinook like cool water—ideally between 7 and 15 degrees Celsius (around 45-59 degrees Fahrenheit). Generally, their spawning habitats consist of areas with deep pools, cover (like woody debris in the water) to help them hide from predators, and abundant spawning gravel.

Climate change has presented challenges to spring Chinook, which are expected to increase over time. In our region, these include warmer water temperatures and lower water levels. Warm water temperatures negatively affect spring Chinook migration, block access to habitats, change behavior and growth, and may delay spawning. Low water levels negatively affect migration, habitat availability, and lead to more rapid increases in water temperature.

Habitat loss has also been a challenge for spring Chinook. These fish require complex, variable habitats that support different stages of their life. For example, juvenile Chinook need slow water habitats that are well connected to the floodplain in order to grow and thrive. Generally, many streams throughout the Pacific Northwest have been straightened and simplified, causing many habitats that Chinook require to be lost.

Now on to the good news! In Central Oregon, we still have some cold water for spring Chinook. The Metolius River is clear, clean, and cold (as anyone who has stuck a toe in that river can attest!). Whychus Creek has Alder Springs, which pumps a lot of cold, clean water into the creek. The Lower Crooked River is cooled by Opal Springs, allowing for the range of water temperatures that spring Chinook enjoy summering in, before heading further upstream to spawn.

The Land Trust has been working for decades on conserving and creating habitat for fish and wildlife, including spring Chinook. Restoration projects along Whychus Creek at Camp Polk Meadow Preserve and Whychus Canyon Preserve have increased habitats for all life stages of spring Chinook, and upcoming restoration work at Rimrock Ranch and Willow Springs Preserve will boost their habitats even more.

Last year, our partners moved to exclusively releasing fish that are one year old, called smolts. This year, we will be working again with smolts. At Camp Polk Meadow Preserve, a large acclimation tank hosts them before their journey downriver. Meanwhile, at Ochoco Preserve, we have two large, temporary screened boxes (called live cars) where smolts acclimate ahead of their journey.

Acclimation is when smolts are placed in a holding facility that contains water from the stream or river the fish would naturally return to for spawning. Smolts are particularly sensitive to the smell of the water from their home creek and use this time in their lives to store the smell in their brain. This process is called imprinting. Then, they use this clue to help find their way back to the same area to spawn as an adult.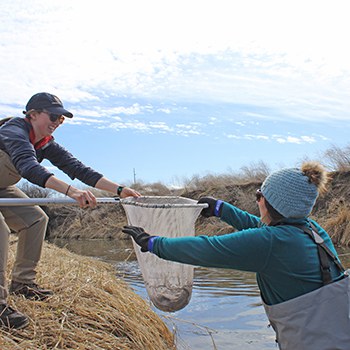 The acclimation tank at Camp Polk Meadow Preserve hosted 20,000 spring Chinook smolts in March. Currently, there are 25,000 steelhead smolts that are acclimating before being released in mid-April. Then, another group of 25,000 steelhead smolts will be acclimated and released in early May.

At Ochoco Preserve, the focus has been on spring Chinook. Two batches of 10,000 spring Chinook smolts were acclimated and released in March.

In order to track the smolts that have been released, a PIT (passive integrated transponder) tag is inserted into some of the fish. The PIT tag is somewhat similar to a microchip for your pet. PIT tag monitoring stations, located at certain points along fish migration routes, record the unique tag number as the fish passes by. In this way, we're able to monitor the fish's progress when they head out to the ocean, then track them again upon their return to spawn.

Although there are challenges, we are hopeful that our efforts (and the work of our partners) will bring more spring Chinook back to Whychus Creek and the Ochoco Preserve area to spawn in the future!