The Land Trust Alliance recently released a comprehensive report showing land trusts across the nation conserved a staggering 61 million acres by 2020. That's an increase of 15 million acres since 2010, and an area of protected land more than all the national parks combined.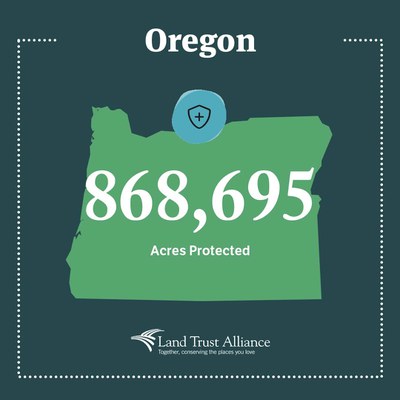 The data also show that local land trusts are leading the way forward--70% of the growth in land protected since 2015 was achieved by local and state land trusts. In Oregon, 868,695 total acres were protected!


Local impact
The Deschutes Land Trust plays a key role in the national conservation picture. The Land Trust conserves and cares for the lands that make Central Oregon an incredible place to live, work, and grow. As Central Oregon's locally-based, nationally-accredited land trust, the Deschutes Land Trust has conserved and continues to care for more than 17,523 acres since 1995. Learn more about our protected lands.


Key Findings
Land trusts have protected a staggering 61 million acres of land, an area of land that is more than all the land in national parks combined. 
868,695 total acres were protected in Oregon. Learn more about Oregon's combined efforts.
17,523 acres conserved by the Deschutes Land Trust, Central Oregon's local land trust. 
During a global pandemic, land trusts provided solace for many Americans. More than 16.7 million people visited land trust properties in 2020, an increase from 6.25 million in 2015.
Land trusts maintain 9,761 miles of trails--more than three times the width of the United States.
Land trusts are working to address issues of diversity and inclusion: 78% of land trusts are engaging people of diverse racial and ethnic backgrounds, older adults, veterans or active-duty military, people living with disabilities and LGBTQ+ individuals. Learn more about Deschutes Land Trust's Equity Commitment.
Land trusts increasingly are seeking ways to address climate change: 74% of land trusts have increased their focus on climate change since 2015. Natural and working lands can sequester large amounts of carbon, potentially contributing up to one-third of the total emission reductions necessary to avoid the worst effects of climate change. Learn more about Deschutes Land Trust's climate change strategy.

Learn more: