The first phase of the major Ochoco Preserve renovation continues to move forward. This year we are focusing on realigning McKay Creek onto the Preserve to improve habitat for fish and wildlife, building a fish acclimation pond to help accustom salmon and steelhead to McKay Creek, and establishing initial locations for trails and educational sites.

In June and July, crews were on site laying the groundwork for the project. Their efforts have been focused on the northwestern portion of the Preserve, just north of McKay Creek (see map below).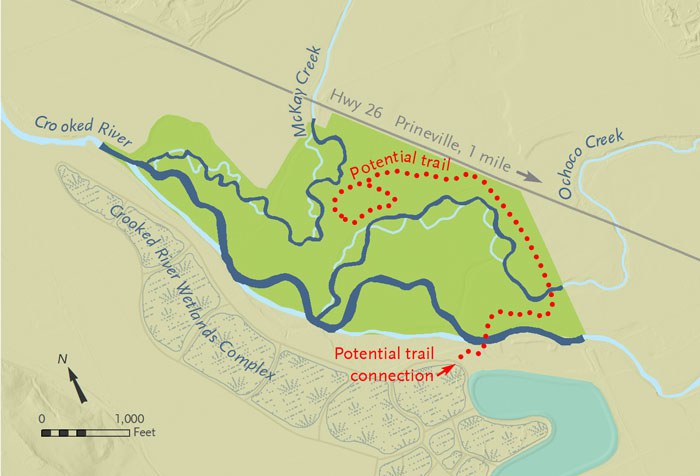 This portion of the Preserve is quite a bit lower than the rest of the Preserve so crews have been challenged by a higher water table. Despite this, they've been able to work on the rough cutting, filling, and grading that is needed before they can build the new McKay Creek channel and floodplain. Once this initial work is complete, they will come back and complete the more detailed work. The end result: A new meandering main channel will be moved onto the Preserve, doubling its overall length to one mile. Learn more about the McKay Creek work.


Last week, crews also started to build the habitat structures that will help boost fish and wildlife habitat at the Preserve and protect neighboring properties. Crews are focused on building the largest fixed structure (~200ft long!) that will be at the northernmost end of the property along the Crooked River. It will be built in segments out of wood we've been stockpiling at the Preserve. The photo at left shows how crews have begun holding a small portion of the Crooked River back to build the wooden structure.

What's next? Excavation, grading, and habitat structure building will be ongoing through September. Then we will transition into decommissioning access roads and planting all the new native grasses, shrubs, and trees that will help the site recover. Stay tuned for more as the project evolves!


Learn more: