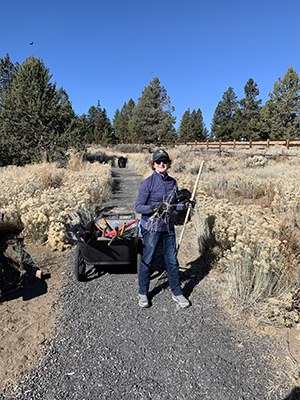 The Land Trust is so thankful for our amazing corps of dedicated volunteers! Day in and out they help make the work of conserving and caring for the land possible. This month we wanted to shine a light on the group of folks who help keep our Preserve trails in great shape, the Trail Stewards!

Trail Stewards are a group of individuals who volunteer their time from April-October to ensure our trails are tended and ready for visitors. They regularly visit an adopted Preserve and segment of trail to make sure trails are open and passable for our community. Rakes and loppers in hand, they cut small branches that hang too low, pick up trash, pull weeds, and rake a LOT of pine needles. They log some serious hours—1,146 since 2014!—and some serious mileage hiking their segments and checking on trail conditions.

"We are so thankful Trail Stewards are out at our Preserves, keeping an eye on our conditions and helping us ensure our trails are ready for exploring," said stewardship associate Peter Cooper. "During the pandemic these volunteers were especially indispensable as they were able to keep up their solo volunteer job when other group projects were on hold and at a time when trail use was high." A thousand thanks for your dedication and time and trail muscles!



2022 Trail Stewards:
​​Amanda Adams and family
Nancy Cyr
Peggy Frede
Wade and Janet Harris
Robin Holm
David Margiott and Kathy Montgomery
Carol and Rod Moorehead
John Nilsen
Francie Picknell
Jennifer Sutter
Carol Wall
Inge and Michael Wells

2014-2019 Trail Stewards:
Derek Bickel
Karen Bonner
Debbie and Joe Coss
John and Laurie Danahy
Julianne Dieringer
Clyde Dildine
Peggy Frede
Gus Gustafson





 

2021 Trail Stewards:
Nancy Cyr
Peggy Frede
Dan Guiney
Wade and Janet Harris
Janet Hodgers
David Margiott and Kathy Montgomery
Bill Mitchell
Carol and Rod Moorehead
Jennifer Sutter
Carol Wall
Deb and Gary Weber



Amy Jermann
Pat Kearney and Carol Wall
Derek and Jane Loeb
David Margiott and Kathy Montgomery
Bill Mitchell
Carol and Rod Moorehead








2020 Trail Stewards:
John Danahy
Peggy Frede
David Margiott and Kathy Montgomery
Bill Mitchell
Carol and Rod Moorehead
Carol Wall
Deb and Gary Weber







Jim Nicol
Steve Ponder
Ron Ross
Darla Sadler
Rick Treleaven
Deb and Gary Weber
Lisa Yee







Learn more: