After a pandemic delay, the stream restoration at Willow Springs Preserve has begun. The Land Trust and our restoration partners have been working for several years to plan and implement a project to return the portion of Whychus Creek that runs through the Preserve to a healthy, biologically diverse condition. This time, we are using a low-tech restoration approach to transform a single channel into a braided series of channels that spread out across the valley floor.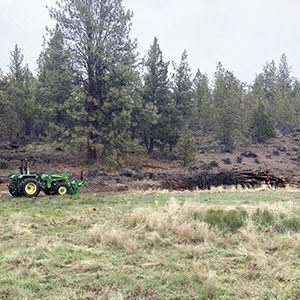 Starting in May, crews will be on site staging the materials needed to build the natural structures that will be used in the restoration to change creek conditions. We've been stockpiling whole trees in the meadow for several years, and now they will finally be put into action! Small machines will transporting these whole trees to staging locations all along a ¾ mile stretch of Whychus Creek that runs through the Preserve.

In June and July, we expect crews to be on site constructing the natural structures that will be used for restoration. Most of these will look like log jams in the stream, but they are constructed with vertical wooden posts that are angled against placed logs in order to provide stability. These will be used to shift the flow of the creek in certain directions. Smaller dam-like structures will also be built on side channels to imitate beaver dams, create pools, and help connect Whychus Creek to the surrounding meadow. Finally, this fall, thousands of native plants will be added to the restoration area to provide stream shade, soil stability, and habitat for wildlife. Learn more about the restoration approach.

Although Willow Springs Preserve is closed to the public, we encourage you to register for one of our guided walks to learn more about the project. We appreciate your patience as we work to make Whychus Creek healthier for us all!


Learn more