The Land Trust recently participated in a regional gathering of butterfly enthusiasts, land managers, scientists, and others working to protect a butterfly called Leona's little blue—emphasis on the little. This tiny insect is believed to be the most range-restricted (and smallest!) butterfly in the US, and possibly the world!
Why is the Leona's little blue so special? It's only been found on a small patch of high desert east of Crater Lake and it uses one host plant, spurry buckwheat (Eriogonum spergulinum) to lay its eggs. First discovered in 1995, scientists are still learning about its fascinating lifecycle and how it thrives in the pumice desert where temperatures are so extreme. What they do know, is that the Leona's little blue has a very short window of time for the adult females to lay eggs, for the eggs to hatch, for the caterpillars to do all their growing and then form a chrysalis before their host plants dry up in the extreme dry heat.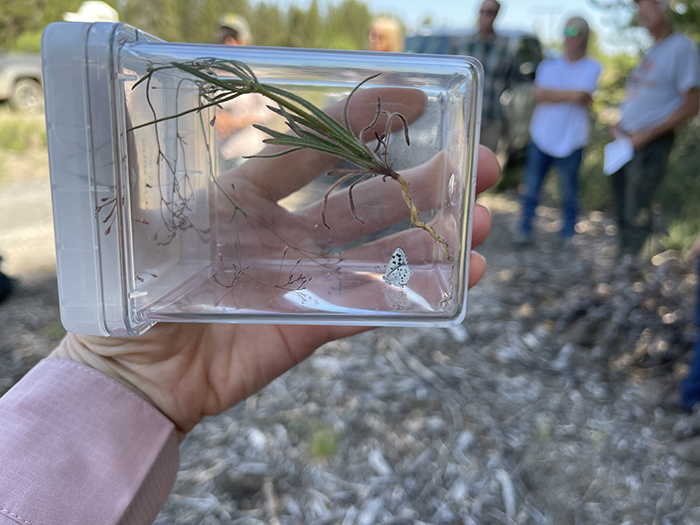 Stewardship director Amanda Egertson helped with Leona's little blue surveys this year and attended the gathering of folks who came together to share information, talk about additional data needs in order to unravel some of the remaining Leona's mysteries, and brainstorm ideas about how to best manage their habitat to help them thrive into the future.
"It's exciting for the Land Trust to participate in the dialog and collaborate with this diverse group of stakeholders," said Amanda. "Our hope is that we can join in the conversation and do what we can to ensure a future for this little-known, little-sized butterfly."
Stay tuned for more details as we continue to build support and regional conservation of butterfly and pollinator habitat.
Learn more: