One of Deschutes Land Trust's core focus areas is conserving working farms, ranches,  and forests.

Large farms, ranches, and commercial timberlands have traditionally represented the economic base of Central Oregon. However, the growth of other local industries, particularly recreation, has contributed to a rapid growth in the region's population and growing pressure to subdivide these working lands. When that occurs, we see an increase in the density of roads, fences, and traffic which can complicate and disrupt the movement of native wildlife. Large intact farms, ranches and forests can protect wildlife migration corridors which in turn helps keep our native wildlife healthy.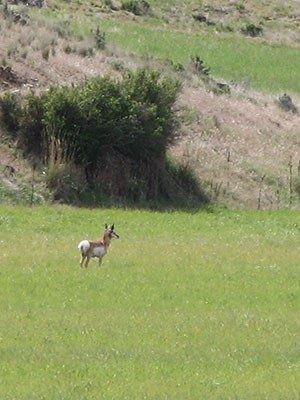 Why are migration corridors important?
Migration corridors are the pathways wildlife need to move from summer to winter range and back again. The protection of wildlife migration corridors benefits a wide range of species, both addressing the need for seasonal movement, as well as for the genetic health of various wildlife species, minimizing the risk that a given population of wildlife becomes isolated and inbred. Allowing wildlife the freedom to move between population concentrations or types of habitat becomes even more important when we factor in climate change.

Our approach:
The Land Trust has worked with data from various conservation partners (including the Oregon Dept. of Fish & Wildlife, The Nature Conservancy and the American Bird Conservancy) to identify key migration corridors that are at risk of fragmentation. Many of the corridors are on private working farms, ranches and forests.

Land Trust projects like Coffer Ranch, Ranch at the Canyons, and Aspen Valley Ranch, as well as our ongoing effort to conserve Skyline Forest and other working ranches all reflect an effort to protect important migration corridors. By helping a rancher or timberland owner keep their land in production at a sustainable level, they can forgo additional development and maintain an economic return, while wildlife maintain, and hopefully enhance, their ability to move when they need to do so.

New opportunities:
For many years our progress on working lands projects has been severely constrained by the limited availability of public funding. In 2017, the Oregon Agricultural Heritage Program was established to help fund the conservation of working farms and ranches. The Land Trust hopes this new program will be a valuable tool for future conservation projects in Central Oregon.

Learn more: