In the 1860s, Central Oregon was a wild and untrammeled place. Early travelers described the region as at once lush and barren with the region's rivers and streams providing the sustenance needed to survive. The Crooked River was one such place in a harsh terrain.

Early travelers' journals tell the story of the Crooked River before settlement. Along the rivers and creeks, beaver dams and wetlands were abundant; grasses and willows thrived in rich soils replenished by flood waters; and salmon and steelhead thrived. "Peter Skene Ogden, a Hudson's Bay Company fur trapper…saw grasses standing 'seven feet high' and streams lined with willow."*

Today our region looks different, yet the Crooked River remains a lifeblood for our community—both human and wild. And while the landscape will never return to pre-settlement conditions, we can choose to conserve important lands that humans and wildlife will need to survive into the next century. That's why the Land Trust has had a longstanding interest in conserving key lands in and around the Crooked River.

The Crooked River drains from the Ochoco Mountains and flows west-northwest
through Prineville before joining the Deschutes River at Lake Billy Chinook. Major tributaries include McKay Creek and Ochoco Creek west of Prineville and Mill Creek east of Prineville. Sixty-eight percent of the land in the Crooked River basin is privately owned and much of that land is working farm, ranch or forest land. These working lands are the social and economic backbone of the area and also support elk and mule deer, antelope and sage grouse, redband trout, salmon, and steelhead.

Our approach to conservation in this region has been, and will continue to be, voluntary conservation with willing landowners. We know many farmers and ranchers have a long-standing relationship with their land and want to keep it in agricultural production. Our primary conservation tool—a land preservation agreement—allows us to do just that. We use this flexible tool to conserve land for important habitat values, while keeping the land in private ownership and in agricultural production.

Crooked River Conserved Lands: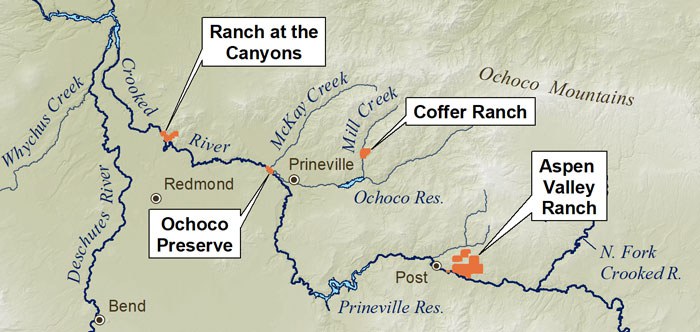 *Cohen, Scott. "Crooked River." The Oregon Encyclopedia, The Oregon Historical Society, 2 Oct. 2017, oregonencyclopedia.org/articles/crooked_river/#.WpXJIu7waX0.

Learn more: