As we've mentioned previously, the Deschutes Land Trust started a Monarch Butterfly Conservation Program in the spring of 2019. Why did we start this program? The Western monarch butterfly is in severe decline. There are multiple reasons for this, including loss of habitat for all stages of its life cycle, including overwintering grounds; pesticides like neonicotinoids; and climate change. Since the Land Trust conserves and restores land in Central Oregon and the Western monarch's migration path goes through this area, we can significantly improve breeding and migration habitat quality.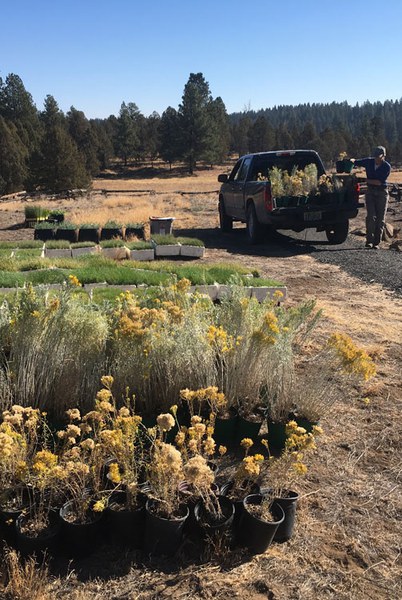 The Land Trust is currently helping to conserve land along the Western monarch's migration path. We are also restoring and protecting monarch habitat on these lands by planting milkweed, the monarch's host plant, and other important native vegetation. And we are getting the community involved in the process!

What is the most important thing we are currently doing for monarchs? RESTORING HABITAT. Western monarchs need habitat for all stages of their life. Their habitats need to be free from pesticides and be located where native milkweed and other native pollinator-friendly plants thrive. It also needs to have space for monarchs to fly freely, as well as be able to seek shelter when needed. The Land Trust works hard to protect these types of habitats and restore them, so these areas can support monarchs and other pollinators now and into the future.

What else are we doing to help the Western monarch?
We are helping you create monarch butterfly habitat at your home. Through a partnership with US Fish and Wildlife, we have made milkweed seeds available for our community to plant. We are also working with Clearwater Native Plant Nursery in Redmond to grow 1,100 native narrowleaf and showy milkweed plants. We will be planting 400 milkweed at Camp Polk Meadow Preserve and Whychus Canyon Preserve, and the other 700 will be provided to Bend Parks and Recreation District, Central Oregon Community College, the Old Mill District, and others. It's only through working together as a community that we can provide the habitat needed for Western monarchs.

In addition, we lead butterfly tours on our Community Preserves to help increase awareness and stewardship of these beautiful creatures. We have offered Nature Night presentations on monarchs and other pollinators, given talks to local community groups, and are continuing to partner with other organizations to spread the word about Western monarch butterflies.

On occasion, we help monarchs an additional way: by responsibly rearing eggs and caterpillars to adulthood and then tagging and releasing them into the wild. Why do we do this? Because only 2-5% of monarch eggs that are laid make it to adulthood. Predation and parasitism are natural challenges that many species face, but for the Western monarch population that is already in severe decline, it's hard to sit back and allow nature to take its course. There aren't many Western monarchs left. So we're working closely with Dr. David James at Washington State University to very carefully rear, tag, test, and release monarchs. We are also partnering with Southern Oregon Monarch Advocates, Brookings Oregon Monarch Advocates, Monarch Advocates of Central Oregon, and Western Monarch Advocates, among others. Working collaboratively across state lines, we're hoping to conserve and restore habitat along monarch migration routes and to educate communities along these routes. It's quite a combined effort!

What can you do to help?
We're so glad you asked! Since restoring Western monarch habitat is of the utmost importance, we're asking for your help with it! What that looks like:
Plant native milkweed. Central Oregon has two types of native milkweed--narrowleaf and showy. Native milkweed is adapted to our climate, which is just one of the reasons to plant native. If you're able to plant both varieties, that is incredible. If you only plant one native variety, it's also helpful!
Plant other pollinator-friendly plants that bloom May - October. This ensures that there's always some nectar available for our pollinators! Some pollinator-friendly plants that are native to Central Oregon include spreading phlox, western columbine, Lewis flax, common yarrow, and yellow rabbitbrush. Learn about more options here.
Don't use pesticides! Butterflies (and other pollinators) are incredibly vulnerable to pesticides.
Buy plants from nurseries that don't use pesticides. These chemicals can often stay in the leaves and nectar of plants, affecting butterflies and other pollinators long after you've taken your plant home.
Get your neighbors, church, school, etc. to plant native milkweed and other pollinator-friendly plants. We can only help monarchs if we work together and provide habitat along the monarch's entire migration path.
Support the Deschutes Land Trust. Your support helps us continue to protect lands that have important habitat for the Western monarch.
Attend the Western Monarch Summit in January 2020. Ready to take your monarch love to the next level? Join us and monarch researchers, scientists, groups, and enthusiasts in southern California early next year as we work together to protect the Western monarch.

We're excited to have our community work together to help protect the Western monarch butterfly and restore its habitat. We're glad to have you with us on this journey!


Learn more: