There is a fantastic show happening in Central Oregon right now. It's full of blues, yellows, purples, pinks, and browns. Peak wildflower season has hit the Ochoco mountains outside of Prineville. Whether it's balsamroot, lupine, paintbrush, Brown's peony, or another wildflower, the Ochocos are covered in color right now! It is truly spectacular. Take advantage by heading out for a walk soon. Here are five blooms that are common in the Ochoco mountains:
Blue stickseed (Hackelia micrantha)
Other common names: Jessica stickseed, Jessica sticktight, meadow forget-me-not
I'm just going to go ahead and let you know: this is one of my favorite flowers. Blue stickseed grows 12-40 inches tall. Stems are erect with lance-shaped leaves. The upper stem is branched with bright blue flowers that have a yellow or white eye. Flowers are up to 1/3 inch wide with five rounded lobes. Blue stickseed grows with aspen, on moist forested slopes, and near streambanks in the mountains.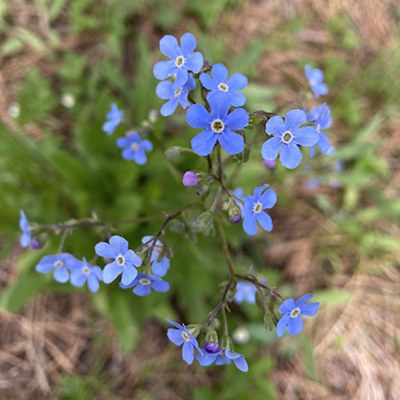 Leafy bluebells (Mertensia longiflora)
Other common names: Trumpet lungwort, long flower bluebells, small bluebells
What little blue pops of color these bluebells provide! Flowers are in a tight nodding cluster at the top of stems. The blooms are one inch long and tubular with a bell-like mouth that spreads open slightly. Leafy bluebells can be bright blue, lavender, or pinkish. Stems are erect with broad leaves. Leafy bluebells grow in open places, often with sagebrush and ponderosa pines.
Giant-head clover (Trifolium macrocephalum)
Other common names: Big headed clover, Large head clover
A delightful bloom to spot in the late spring and early summer! And it's exactly what it sounds like—a giant version of the clover you might find in your lawn or local grassy park. Flowers are egg-shaped, 1-2 ½ inches long and expanding to 3-4 inches long as the flower ages. Giant-head clover is pink, white, or two-toned. It grows 3-8 inches tall and has 7-9 leaflets. This wildflower grows in rocky soils with juniper or shrubs.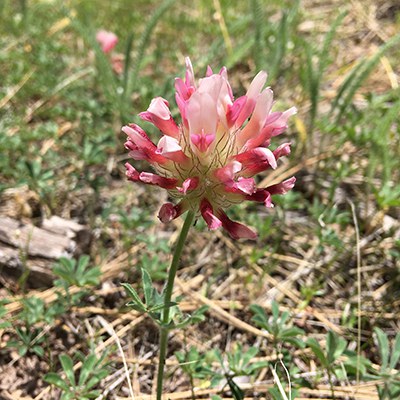 Tolmie's onion (Allium tolmiei)
Other common names: None
A common wild onion in the Ochocos, Tolmie's onion grows 2-6 inches tall. It has an erect stem with 10-40 flowers on top. Petals are pink or white with darker pink, and have pointed tips and edges that roll inward. Leaves are thick, flat and curving, and are often twice the length of the flower's stem. Tolmie's onion grows in clay soils located in east-side forest and shrub-steppe.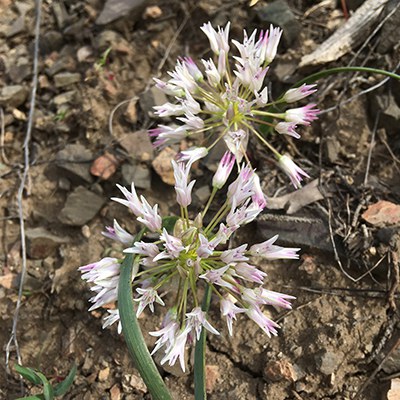 Spotted fritillary (Fritillaria atropurpurea)
Other common names: Spotted mountain bells, leopard lily
With subdued yet beautiful colors, spotted fritillary can be difficult to notice unless you're really looking. They are brown to greenish in color with yellow, red, or white markings. Flowers hang downward or facing outward (making them even more difficult to find). Between 1-3 blooms can be found per stalk. Stems are erect with long, narrow leaves. Spotted fritillary grows on the edges of forests near shrubs.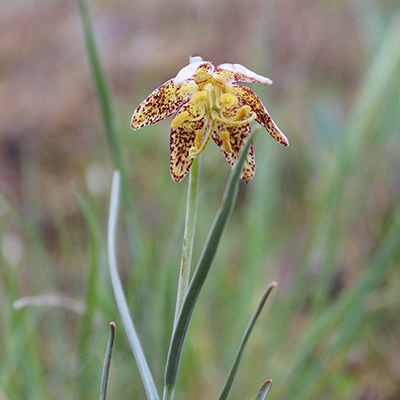 Whether you're wandering among the ponderosa pines, the larch, or the aspen groves in the Ochoco mountains, be sure to enjoy all of the wildflowers that call this special place in Central Oregon home!


Sources:
Wildflowers of the Pacific Northwest by Mark Turner and Phyllis Gustafson
OregonFlora
More about nature in the Prineville area: