We've officially turned the corner into another season which means the fleeting world of fall is upon us! In Central Oregon, fall always seems like it is gone in a blink. We move from hot summer to freezing temperatures, and then before you know it, the leaves are gone and snow is dusting the mountains. Fall colors are always a highlight of the season, so make your plan now to get out and see the changing colors before they are gone. Depending on moisture, temperature, and other factors, leaves will generally begin to change color in mid-to-late September and last though the end of October. Here are four places in Central Oregon to look for fall colors.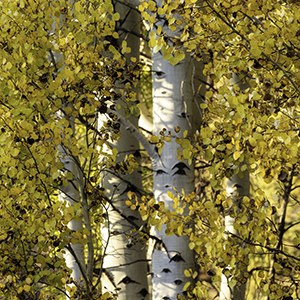 Shevlin Park in Bend is always a favorite. With a huge variety of walking trails, picnic spots, and hikes, you are sure to find a way to explore this wonderful park. Visit the banks of Tumalo Creek to see the streamside plants that offer pops of golden willow and pink dogwood. Shevlin's aspen groves will also change a brilliant yellow in October, and then, be sure to return later in season to see awesome displays of Western larch. These tall trees that resemble pine trees, loose their needles each year in a feathery display of gold.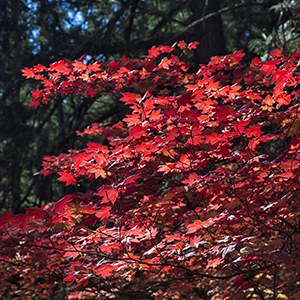 The Land Trust's Metolius Preserve near Camp Sherman is another prime fall color spot. In mid-late September the vine maple will begin to change color lending hues of yellow, orange, and red to the surrounding green forest. These understory shrubs are often found near streams or rivers, but also grow in the lava fields along McKenzie and Santiam pass. Their bright colors are truly a highlight of the season! Like Shevlin Park, you can return to the Metolius Preserve later in the season to see the golden displays of Western larch.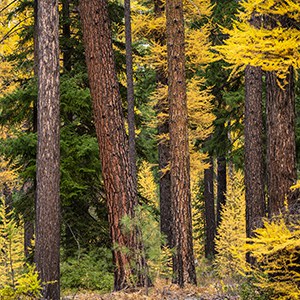 Lookout/Round Mountain. The Round Mountain South or Upper Lookout Mountain trailheads in the Ochoco National Forest are another wonderful fall color destination. The drive to the trailhead is a great outing itself, as the banks of Canyon Creek are lined with shrubs that will change lovely colors. Look for aspen trees as well! Once you arrive, you can choose short strolls or longer hikes to take in the forest of pine and larch. The star, of course, is the Western larch which towards the end of October will offer seas of gold amid the green! While you're there, take a side trip to Big Summit Prairie for scenic meadow views of changing meadow grasses.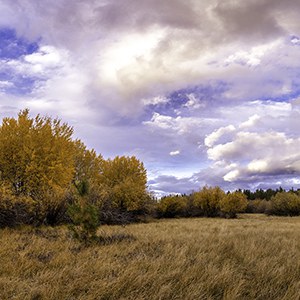 Indian Ford Meadow Preserve. Speaking of meadows, this little meadow near Sisters owned and managed by the Land Trust is stunning in fall! Brilliant yellow aspens line the meadow and fall colors along Indian Ford Creek and golden meadow grasses offer delightful contrast. Visit at sunset to watch the fall colors, visiting wildlife, and the sun sink behind the glorious views of the Cascades.


Of course, there are many, many other places to view fall colors throughout Central Oregon. Most of our creeks and rivers will play host to changing streamside vegetation, and forests and meadows will get in on the fun with their own palette. Keep in mind, fall color season is also hunting season. Wear bright colors and be aware of your surroundings when exploring, but get out there, time is short! Cooler temps, and frosty mornings help nature shine, and you'll want to find your favorite places by scheduling lots of time to explore in this delightful shoulder season.

This story first appeared in the The Bulletin.


Learn more: