Fall is officially here, which means it's time to hit your favorite trails that ring in the season! I always get a craving in September to find a local trail that takes in the turning vine maple leaves—one of our best, local fall colors. My pick, the Lake Creek Trail near Camp Sherman. It's close enough for a quick half day outing and has lots of options to make the hike shorter or longer depending or your group.
You can start this hike in a variety of locations: Suttle Lake, on the 1419 road heading into Camp Sherman, or at the Deschutes Land Trust's Metolius Preserve. I started at Deschutes Land Trust's north trailhead which offers an easy parking lot, restroom, and interpretive information about the Preserve and surrounding forest. From the Metolius Preserve trailhead to Suttle Lake, it's an out and back hike of approximately 5.5 miles.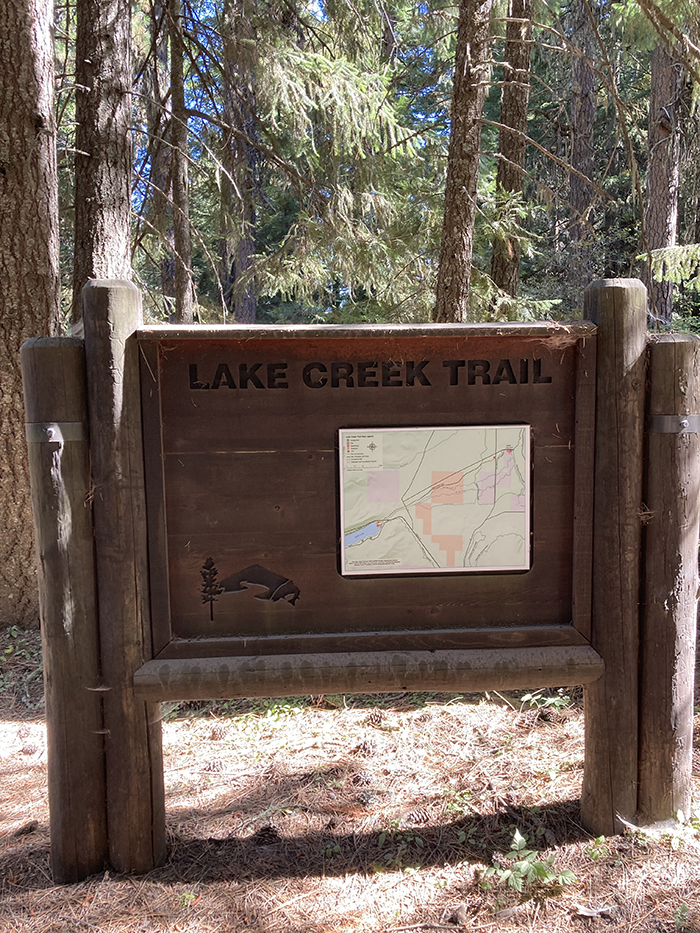 From the Metolius Preserve north trailhead, the Lake Creek Trail heads west out on an old logging road that is quietly getting more overgrown and singletracky. Shortly after the trailhead, the Land Trust has a side trail that leads south deeper into the Metolius Preserve. If you are short on time, or have folks with shorter legs and even shorter attention spans, consider this lovely ½ mile loop that takes you back to the trailhead along Lake Creek. Chock full with colorful vine maples, a bridge for playing pooh sticks (my kids still love this game!), and benches, it makes for a great place to slow down and take in the changing season.
If you choose not to take the turn (or do, and make a quick visit down to the creek and back again), continue west on the Lake Creek Trail. Towering ponderosa pines, Western larch, and Douglas and grand firs surround the trail offering dappled shade on a sunny day. Contrary to its name, a decent chunk of the trail isn't smack on the creek (better for the health of the creek!), but you still get glimpses of it as you hike towards Suttle Lake. The trail leaves the Metolius Preserve after .8 miles and continues onto gravel/dirt road on Deschutes National Forest land. Follow this road with several shady rest spots along the creek for another ~.5 mile until it turns back into a trail that eventually crosses the paved Road 12. Watch for traffic as you continue across the road towards a singletrack trail through the forest.
From here, the trail begins to head up towards its junction with Suttle Lake. You can hear Lake Creek tumbling down to the left, and its banks are surrounded by those amazing vine maples that bring color to the surrounding forest. Vine maple (Acer circinatum) is a tall understory shrub that is native and widespread in the Pacific Northwest. It can grow quite tall (20-30ft!) in ideal growing conditions, or stay short, but still stunning, when it takes root in cracks in lava fields high up on the Cascade crest. Vine maples have a lot of tricks up their sleeves! They provide food and shelter for wildlife, help keep our rivers and streams clean by keeping banks from eroding and soil from running into the water, and, like all plants, they help remove carbon dioxide from the air and store carbon to help combat climate change! But their showiest trick is the stunning display of colors that come each fall when stored pigments in leaves—yellows, oranges, and reds—take over as the plant stops producing green chlorophyll. Nature is so cool!
The trail eventually levels out and you follow it along the banks of Lake Creek (more vine maple!) under Highway 20 to Suttle Lake. From here you can hike around the lake, find snacks, pet more vine maples, and more. Return as you came, happy you saved the downhill for the way home.
The Lake Creek Trail is a shared trail open to hikers, walkers, bikers, and portions to horses. Please share the trail respectfully. Keep in mind that fall is also hunting season. Wear bright colors, avoid hiking at dawn and dusk, and be sure to leash Fido. Find trail maps, directions, and more.
This story first appeared in the The Bulletin.
Learn More: