The Land Trust presented two Central Oregon residents with Volunteer of the Year Awards at its annual Open House on October 24. Pat Kearney and Jane Meissner were honored for their involvement with the Land Trust's free Walk + Hike program.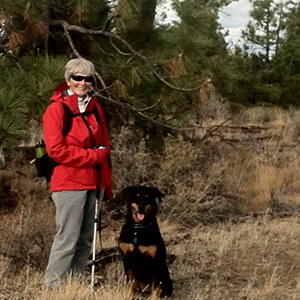 Pat Kearney first got involved with Land Trust hikes as a spotter on bird walks. Recognizing that leaders often struggled talking about birds and spotting them simultaneously, Pat would call out birds she saw and then help nearby attendees locate the bird in their binoculars.
"As the years progressed we realized Pat did much more than just call out birds. She was an excellent shepherd, keeping the group together on the trail and providing an extra hand in case of an emergency. Pat essentially created a volunteer position we didn't even know we needed," said Sarah Mowry the Land Trust's outreach director.
In addition to being "Chief Shepherd" at the Land Trust, Pat has taken the time to become an Oregon Master Naturalist so she can contribute more on her hikes, and she consistently volunteers for events and other projects. Pat was presented with the 2012 Volunteer of the Year award.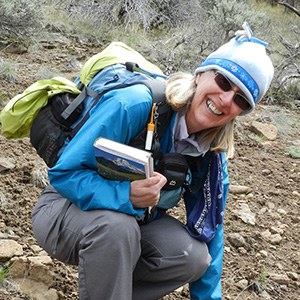 Jane Meissner is one of a handful of core volunteers who make the Land Trust's Walk + Hike Program possible. She leads a wide variety of hikes for the Land Trust exploring wildflowers, forest ecology, stream restoration, wagon road history, and more.
"Jane is a huge asset to our hike program. An experienced naturalist who knows the birds and the bees, Jane also brings wonderful stories of growing up in Central Oregon before this was the place to recreate. It's often her hindsight that helps visitors understand why protecting habitat is so important," said Brad Chalfant the Land Trust's executive director.
"I like that I may be encouraging others to see the value of preserved land not just for their use, but for the plants and animals. I really enjoy watching people develop an interest in the natural world," noted Jane. Jane was presented with the 2012 Volunteer of the Year award.
Volunteers donated more than 5,600 hours to the Deschutes Land Trust during the past year. The Land Trust is truly indebted to the community of volunteers who support land conservation in Central Oregon.

Congratulations to Pat and Jane for their outstanding contributions!