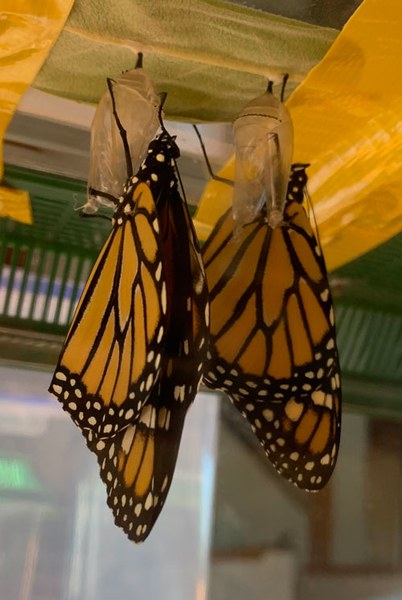 In April, we announced the start of our a new Monarch Butterfly Conservation Program. This program is a way for the Land Trust to collaborate with local and regional partners to protect and restore essential habitat for the Western monarch, whose population numbers have reached record lows.

We have been hard at work helping monarch butterflies this spring and summer! We are happy to share:



We have distributed more than 60,000 milkweed seeds and 1,500 Butterfly Brigade stickers to the general public.
We responsibly reared, tagged, and released 40 monarch butterflies. Most were released at events in Bend, while one was released at Camp Polk Meadow Preserve and two were released at Land Trust protected Rimrock Ranch.
We partnered with Westside Village Magnet School in Bend, Sisters Middle School, and Barnes Butte Elementary School in Prineville to responsibly rear, tag, and release 15 monarch butterflies.
We have worked with Monarch Advocates of Central Oregon, Discover Your Forest, and Clearwater Native Plant Nursery to responsibly rear, tag, and release another 20 monarchs.
Upper Deschutes Watershed Council staff observed a "wild" (not reared) monarch at Camp Polk Meadow Preserve in early August (before we released the reared monarch). In addition, stewardship director Amanda Egertson saw a "wild" monarch across the river from Ochoco Preserve at the Crooked River Wetlands Complex in Prineville.
We are working with Bend Parks and Recreation District, the Old Mill District, and COCC to plant 600 milkweed plants on their properties this summer and fall.
We are planning to plant another 400 milkweed plants (a mix of showy and narrowleaf) on Land Trust Preserves this fall. Volunteer to help out!
The Land Trust participated in the International Monarch Blitz. The Blitz invites people across Canada, the United States, and Mexico to monitor and record sightings of milkweed plants and all stages of the monarch life cycle. This helps researchers identify priority areas for monarch conservation actions.
Stewardship staff has been monitoring previously planted milkweed at Land Trust protected lands for monarch eggs. This year, none were observed.

Thank you to all of our supporters who have planted milkweed, cared for milkweed on our lands, spread the word with Butterfly Brigade stickers, and otherwise furthered our efforts to conserve the monarch butterfly!

Learn more: