The Land Trust hosted a volunteer event in October to thank and recognize our amazing pool of volunteers. We are so lucky to have more than 220 volunteers who are dedicated to conserving and caring for land and sharing our work with other Central Oregonians.
Land Trust volunteers lend a hand in so many different ways indoors and out! This year (so far!) they donated 2,829 hours in the office or out at our Preserves. Wow! Huge thanks to all those volunteers for helping with:
Office projects: Thank you for helping with mailings, labeling plants, stuffing envelopes with milkweed seeds, writing blog posts, and so much more!
Work parties: Thank you for removing barb wire, flagging tape, and fence posts. Planting grasses, wildflowers, and willows.
Bird Surveying: Thank you to our wonderful flock of birders who document our feathered friends on our conserved lands!
Trail Ambassadors: Thank you for welcoming folks to our Preserves, being there to answer questions with a smile, and helping be our team on the ground, letting us know what's happening!
Trail Stewards: Thank you for raking, weeding, pulling, and lopping! Your efforts keep our trails in excellent shape!
Photographers: Thank you for keeping us inspired with beautiful photos of our protected lands. Your work helps us show why land conservation is important!
Hike Leaders: Thank you for being the face of the Land Trust and for leading all our free walks and hikes each year! We are consistently amazed by your knowledge and skill!
Hike Shepherds: Thank you for enriching outings with your natural history knowledge, and for keeping everyone on the trail and back to the trailhead safely!
All other volunteers: Whether your donated 1 hour or 100, thank you for giving your time! We know it is a precious commodity and we thank you for your dedication to conserving and caring for the lands and waters of Central Oregon!
Special Recognition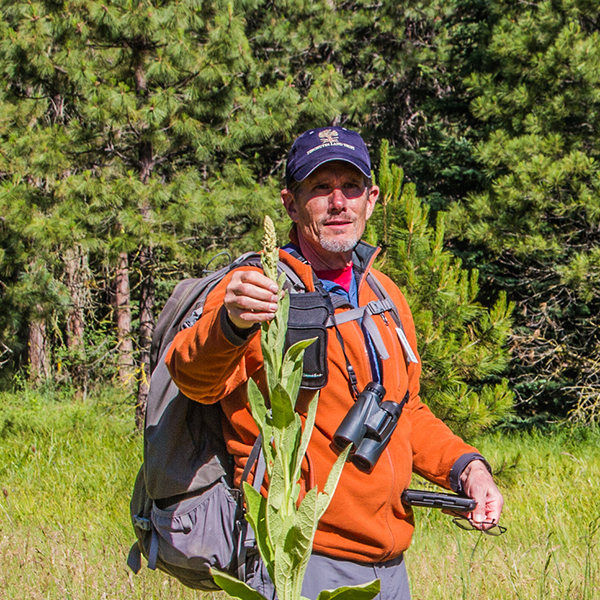 This year we wanted to send a special shout out to one of our volunteers who has been with us for 20 years! Bill Mitchell first started volunteering for the Land Trust in 2003. Since then, he has logged a stunning 2,133 hours lending a hand with so many Land Trust projects. From weed warriors to weed whacking, bird surveys to parking guru, trail tender to stove master, there are few projects Bill has NOT helped with at the Land Trust. This year marks Bill's last year leading bird walks and while we know his volunteering days are not over, we wanted to recognize him for his time and dedication. Bill started leading tours for the Land Trust in 2009 and excelled at sharing the wonders of birds and their habitat with tour attendees. But he didn't stop there! Dedicated to conservation and helping return health to our natural areas, Bill also diligently wove in details on restoration projects, non-native weeds, wildlife, and ways we can all make a difference. Thank you Bill for being by our side for so many years and for sharing your passion with so many folks in our community!
Cottonwood Circle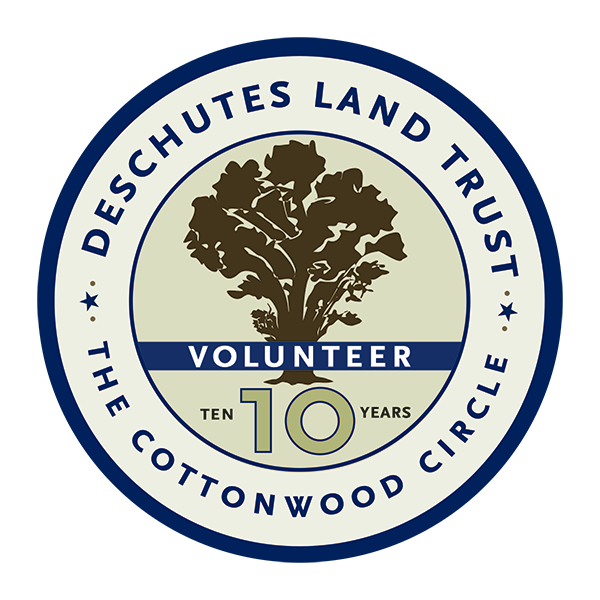 The Deschutes Land Trust is pleased to announce six new inductees into the Cottonwood Circle. The Cottonwood Circle is an elite group of individuals who have volunteered for 10 or more years with the Land Trust. The Cottonwood Circle is named for the majestic black cottonwoods that line Whychus Creek at several Land Trust Preserves.
Today, cottonwoods are rare in their distribution across Central Oregon. It is this rarity, like the volunteers who stick with us for 10 or more years, that inspires us to honor and revere these special trees and special people that are integral to a healthy landscape, a healthy land trust, and a healthy future. This year's Cottonwood Circle inductees are Marilyn Bertran, Debbie Coss, Mike Cutting, Danielle Lordi, Dick Malone, and Glenn Willard.
We are so pleased to welcome you all to the Cottonwood Circle! Thank you for choosing the Land Trust and for dedicating so much of yourself over the years!
Learn more: