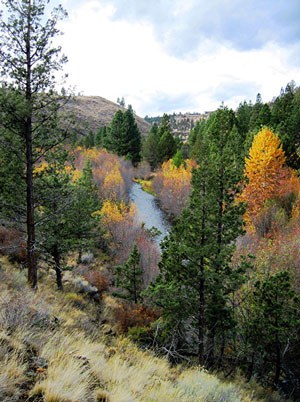 Forests at Whychus Canyon Preserve
The Land Trust acquired Whychus Canyon Preserve in 2010. One of our goals for the Preserve is to improve wildlife habitat and the first way to do that is by restoring the native forests of the Preserve.
The Land Trust hired restoration ecologist Darin Stringer of Pacific Stewardship to create a forestry plan for the Preserve. During the spring and summer of 2012, major forest restoration work began with the initial focus on thinning juniper from ponderosa pine and aspen stands. 
Whychus Canyon Preserve hosts a diverse mix of forest types with juniper woodlands on the plateau above the canyon, ponderosa pine groves along the shadier north faces of the canyon walls and floor, and aspen stands along the wet creek bottom.

Ponderosa Pine Woodlands
Ponderosa pine woodlands at the Preserve provide important shelter and food for species moving along the habitat edge.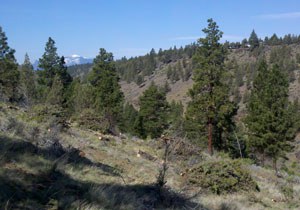 The problem: over time fire suppression and juniper encroachment made those pine stands more vulnerable to beetle outbreaks and mistletoe infestations.
The solution: The Land Trust thinned juniper and a few pines, to reduce catastrophic fire and insect danger while improving wildlife habitat for a myriad of bat and bird species as well as elk and mule deer.
Aspen Woodlands
Aspen woodlands can be found at Whychus Canyon Preserve in groves along the canyon floor where Whychus Creek provides moisture. They also provide shelter and food for wildlife and are limited in our region due, in part, to fire suppression, juniper encroachment, and grazing.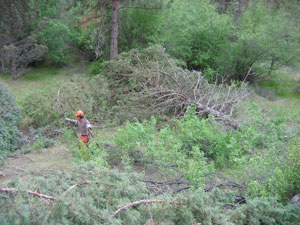 The problem: aspen stands were facing stiff competition from juniper and excessive browse by mule deer.
The solution: The Land Trust thinned the juniper and created downed juniper corrals around some aspen groves to keep deer from browsing the small vulnerable sprouts. The end result will be healthier aspen woodlands that benefit water quality and quantity and provide habitat for nesting and migratory songbirds. 

Current Status
In 2012 the Land Trust began a 100-acre restoration project thinning and burning piles primarily of small diameter juniper. The final phase of this project was completed in January of 2015 with the burning of five acres of piles. Thanks to the Oregon Department of Fish and Wildlife and Land Trust supporters for funding of this project.
Future plans for Whychus Canyon Preserve include similar burn pile projects in priority areas of the 480-acre addition to Whychus Canyon Preserve, which was acquired in 2014 as part of the Campaign for Whychus Creek. Other forest restoration activities will continue as funding is received.