In honor of the Land Trust's 25th Anniversary, we're sharing the stories of our flagship Preserves—the places, the people who have helped care for them, and the power they have to create a brighter future.

For some of you, Camp Polk Meadow Preserve might be your birding hotspot in Central Oregon. For others, it might conjure up black and white images of our region's earliest Euro-American settlement. And for others still, it's a relaxing place to spend a peaceful morning in nature. For the Deschutes Land Trust, Camp Polk Meadow Preserve reminds us of our community.

Camp Polk Meadow Preserve was first protected by the Land Trust in 2000, back when the Land Trust was only five years old. Sisters was a community of just under 1,000. But it was growing, and a nearby meadow that ran along Whychus Creek—Camp Polk Meadow—was being subdivided for home sites.

This meadow already had a long and illustrious history. Native Americans were the first people to visit Camp Polk Meadow. Geographically, the meadow lies within the boundaries of lands regularly and customarily used for thousands of years by eight tribal groups. These groups came to Camp Polk Meadow to hunt and fish, to dig roots and tubers, and to gather berries, nuts, flowers, seeds, and other staples.

This meadow was also part of the historic Santiam Wagon Road. From 1865-1866, soldiers camped here to protect the Santiam Wagon Road that linked the Willamette Valley and Central Oregon. Several years later, Samuel and Jane Hindman settled there and built an outpost, which included the area's first post office, predating the town of Sisters.

With Whychus Creek running through Camp Polk Meadow, it was also known for its historically plentiful runs of steelhead and Chinook salmon. In its storied past, there had been flourishing native plant communities that sustained local wildlife. It had been alive and vital, and now it needed protection to bring back this historic and important natural area.

The Land Trust knew the meadow was a prime area for protection. Even though the creek had been straightened and ran dry every summer, we envisioned it as a core part of the effort to return salmon and steelhead to Whychus Creek. So we rolled up our sleeves and got to work. The acquisition of Camp Polk Meadow nearly didn't happen, as early efforts to engage the landowner went nowhere. However, when Barbara Lee, the watershed council coordinator, discovered the meadow had been subdivided and the lots were on the market, a desperate, final pitch was made. Somewhat to our surprise, the landowners agreed to pull the properties off the market and give the Land Trust a week to put a deal together.

As luck would have it, Portland General Electric's (PGE) Mitigation Committee was scheduled to meet a few days later and John Esler of PGE agreed to entertain the proposal. Despite the short notice, a proposal was formulated and pitched to PGE which cautiously agreed to back the effort, launching what would ultimately be a three-year series of nearly daily negotiations and re-negotiations to purchase Camp Polk Meadow. With PGE's generous and steadfast backing, the Land Trust finally completed the acquisition in October 2000. The Land Trust will forever be grateful to PGE, and specifically to John Esler and Julie Keil, for their vision and tenacity.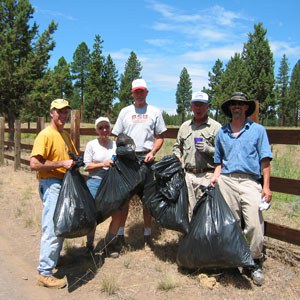 Once the Land Trust acquired the Preserve, we began working on various restoration projects to bring the meadow back to life. But with a staff of three, we weren't going to be able to do it alone. Our community showed up (and continues to show up) in a big way. Volunteers were by our side as we planted thousands of willows in and around Hindman Springs and along Whychus Creek. They were right next to us, removing juniper that had grown in the absence of fire, building fences, pulling barbed wire, creating snags to provide nesting spots for native birds, and pulling a LOT of weeds! In the early years of the Preserve, Martin Winch and other dedicated volunteers single-handedly pulled thousands of weeds that impacted healthy native plant communities. THOUSANDS! Today, our amazing and passionate Weed Warriors and Adopt-a-Plotters continue the work of these earlier volunteers, visiting the Preserve to regularly pull weeds and create healthier habitat for plants and animals. Our amazing volunteers have also played a critical role in our current restoration project to return native plants to the historic Hindman Springs portion of the Preserve.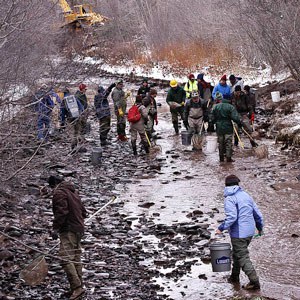 The largest restoration effort at Camp Polk Meadow Preserve to-date was the restoration of two miles of Whychus Creek that runs through the Preserve. More than ten years of effort (including volunteer efforts and a long term partnership with the Upper Deschutes Watershed Council and the Deschutes National Forest) culminated in 2012 when crews returned the creek to its meandering path through the meadow. Our community was by our side during this incredible moment on February 28th, braving the cold to watch this magical moment so many years in the making.

Today, the creek is very much at home in the meadow, and salmon, steelhead, beaver, elk, and other wildlife are returning and making the meadow their home. We continue to adaptively manage the restoration, most recently mimicking the work of beavers to create even more habitat for fish and wildlife. And our volunteers are still by our side, planting willows, releasing butterflies, and documenting the progress. One group of volunteers has been especially dedicated—our bird surveyors! The Land Trust's bird surveyor program started at Camp Polk Meadow with volunteers helping document the more than 160 species of birds that are packed into one little meadow. These dedicated community scientists count birds, document changes from season-to-season and year-to-year, and are helping us learn how major restoration projects like the Whychus Creek restoration are impacting birds. Our dedicated bird surveyors have logged more than 6,500 hours at Camp Polk Meadow Preserve, observing 91,650 birds!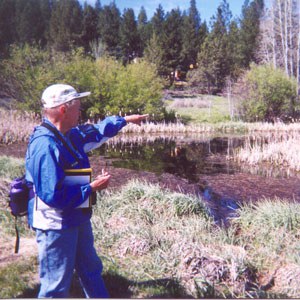 The story of Camp Polk Meadow Preserve is the story of the amazing people who have shared the wonders of the meadow with our community. Jim Anderson, Norma Funai, Jo Anne Heinzel, and Joyce Padgham donated countless hours in the early years to creating the interpretive story of Camp Polk Meadow. They offered the first interpretive tours of the Preserve, weaving together natural and cultural history and launching what would become our wildly popular Walk + Hike program. Today, volunteer naturalists help us offer more than 20 tours of Camp Polk Meadow Preserve a year, sharing the wonders of birds, plants, history, and nature with hundreds of Central Oregonians.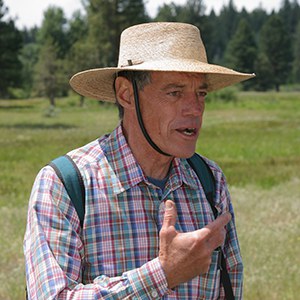 Camp Polk Meadow Preserve is also the only Land Trust Preserve with its own book! Volunteer Martin Winch caught a bug while researching the human history of Camp Polk for the Land Trust, eventually writing the wonderful Biography of a Place: Passages though a Central Oregon Meadow in 2006. His book has become an amazing resource that helps so many of us understand the historical context of our region. Martin, along with Maret Pajutee, also led many cultural history tours of the meadow over the years, and their work (along with photos and stories from Jan Hodgers) is featured prominently in the interpretive signs that now ring the historic Hindman Springs portion of Camp Polk Meadow Preserve.

As the Land Trust celebrates its 25th anniversary, Camp Polk Meadow Preserve is a beacon of light and hope for the future. It is a testament to what we can accomplish together as a community. With you by our side, we can protect special places for future generations. We can return health to the natural world. We can learn from the land and the people who care for it. What does the next 25 years hold for Camp Polk Meadow Preserve? Undoubtedly adapting and changing as the natural world, our climate, and our community grow and change. Your Land Trust will be here as a guide along the way. We hope you'll join us!


Learn more: