It all starts with a seed.

Small and almost weightless. Unassuming with no indication of what it will become one day. The tree grows slowly, barely noticeable at first. But then it shoots up towards the heavens, reaching for the sunlight. This tree, along with millions of others, becomes a carpet of green laid out below the snow-covered and jagged peaks of the Three Sisters. Together, these trees form what is known as Skyline Forest.

The seed of an idea also starts very small. The first serious thoughts of conserving Skyline Forest grew out of a confidential phone call from former White House forest policy advisor Tom Tuchmann, who called at the behest of the landowner to explore conservation opportunities for the Bull Springs Tree Farm, now known as the Skyline Forest. In 2001, Crown Pacific, the owner of the tree farm began subdividing and selling properties amid rumors of a possible bankruptcy. Our initial discussions would become more serious a few years later when Crown Pacific filed for bankruptcy and it became clear that Skyline Forest—along with 270,000 acres of other Crown Pacific lands—would likely be put up for sale.

There are many reasons to permanently protect Skyline Forest. According to the Land Trust's founding director, Brad Chalfant, "Skyline Forest commands much of the scenic view looking west from Bend or looking southwest from Sisters. With Bend's rapid growth and status as a recreational mecca, Skyline Forest looms large with the need to be protected both for its iconic scenic view, as well as its recreational access to our communities." In addition, Skyline Forest provides important winter habitat and is a key wildlife migration corridor for animals like Rocky Mountain elk and mule deer. "If Skyline Forest were sold and subdivided, many, if not most, of these values and opportunities would be lost to future generations," says Brad Chalfant.

But there is more to the protection of Skyline Forest than meets the eye. It's not just the protection of wildlife and views that are at stake. "Putting houses in Skyline Forest would also invite tragedy," says Brad Chalfant. "Fire is a natural and important occurrence in ponderosa pine forests, and climate change is increasing the frequency of major fires." It is a story that is playing out across the American West, as we push our homes further and further into the forests that need to burn to survive.

"High-frequency fire areas and residential development are a challenging mix," says Doug Decker, former Oregon State Forester. "Fire was here first, and fire will always be a part of this area and its forest system. This community knows just how devastating it can be when a fire gets moving in areas like this."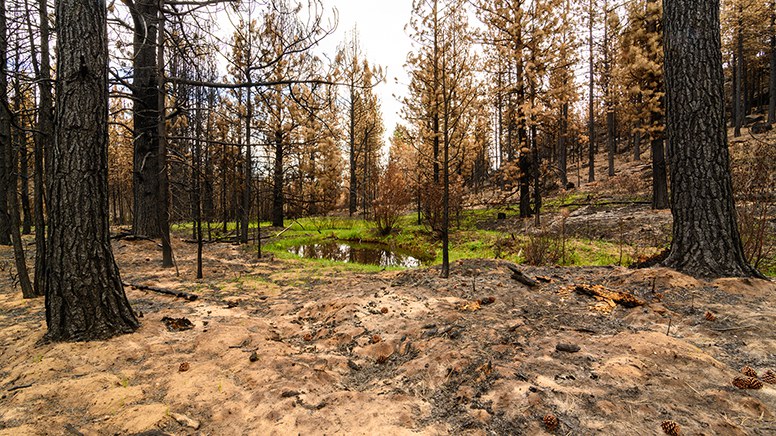 Fortunately, land trusts not only protect birds, bobcats, and trees, but also help keep homes and people out of harm's way. As we began crafting a vision to conserve the forest, we quickly discovered that most Central Oregonians knew little of the Bull Springs Tree Farm and assumed it was public land and part of the Deschutes National Forest. To raise awareness of the risk to Central Oregon's most iconic view, we re-christened the tree farm Skyline Forest and mailed postcards to thousands of Central Oregonians with the property's outline superimposed on an aerial photo (like the one above). Between the imagery and a message of protecting jobs, recreation, AND wildlife habitat, a grassroots campaign to save Skyline Forest took life.

At roughly the same time, the Land Trust joined forces with Tom Tuchmann of US Forest Capital and progressive members of the timber industry working on legislation to counter the historic sell off of Oregon's commercial timberland. In 2005, with Skyline Forest as the poster child and championed by Oregon State Rep. Chuck Burley (R-Bend), Oregon State Senator Ben Westlund (R-Tumalo), and timber company owner John Shelk, the Oregon legislature enacted and Governor Kulongoski signed the Community Forest Authority Bill (HB2729). Nationally, the first of its kind, the bill allowed community nonprofits, like the Land Trust, to partner with Oregon cities and counties to issue municipal revenue bonds to fund the purchase of working timberlands.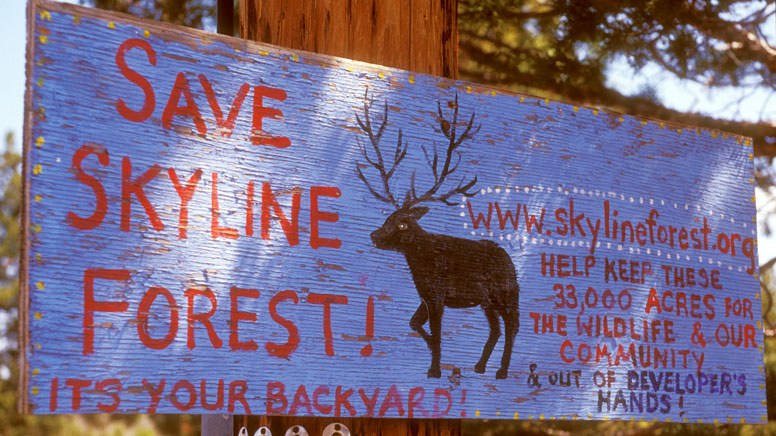 With the bill in place, we continued to build momentum by getting the word out to our community about the need to protect Skyline Forest. The Save Skyline Committee was born.  Tours were offered of Skyline Forest. Hand-painted signs were posted. Equestrian clubs signed on, as did hunters and bird watchers, cyclists, local businesses, and real estate developers. Thousands of signatures were collected from community members in Deschutes County. One of these signatures was from Melissa Kent.

Melissa and her family had moved to Bend in 2003, drawn, like so many of us, to the wonderful quality of life and exceptional recreational opportunities. "I attended a meeting about conserving Skyline Forest and was immediately sold on the mission of the Deschutes Land Trust," says Melissa. "I really like the idea of a working forest—one that produces income, but also helps maintain a healthy forest. I am also enticed by the recreational opportunities for the community, such as hiking and mountain biking, as well as the possibility of preserving the stunning views we have from Bend." Melissa and her husband have been Land Trust supporters ever since that first meeting and Melissa now serves on our board of directors.

Melissa's signature, along with 2,600 others, helped move the Deschutes County Commissioners to vote unanimously to create the country's first Community Forest Authority (CFA) in anticipation of a community bid to purchase Skyline Forest. The seed of an idea had become a forest of support.

In May of 2006, control of Crown Pacific's former timberlands was acquired by Fidelity National Financial and by July, the Land Trust began exploring conservation options with Fidelity for the various tree farms covering nearly 300,000 acres of Central Oregon. Recognizing the scale of the challenge, the Land Trust sought the help of a long list of partners—Representative Chuck Burley, Pacific Northwest Research Station, the Deschutes National Forest, Oregon Department of Forestry, the Oregon Department of Fish and Wildlife, The Conservation Fund, and the Trust for Public Land, among others.

In January of 2007, at the request of the Land Trust, a bill was introduced by Oregon Rep. Burley to restore Oregon's access and participation in the federal Forest Legacy program—the nation's primary forest conservation funding program. By June of 2007, the legislature had passed and Governor Ted Kulongoski signed HB2468, opening up additional funding opportunities to conserve and protect Skyline Forest and other productive Oregon timberlands. For another 18 months, discussions with Fidelity dragged slowly on as they considered their options for the various tree farms.

Then in January 2009, local landuse group Central Oregon LandWatch, broke the logjam by asking Oregon Rep. Brian Clem (D-Salem) and Rep. Judy Stiegler (D-Bend) to author a bill prohibiting development of Skyline Forest.  While the original bill stalled, legislators directed the Deschutes Land Trust, Landwatch, and Fidelity to a capitol conference room and told the parties not to come out until they'd reached a deal to conserve Skyline Forest. Following lengthy negotiations, the parties emerged with agreed upon language which Representatives Brian Clem and Judy Steigler added to existing legislation and subsequently enacted as HB2228 to conserve 31,800 acres of Skyline Forest and 34,700 acres of the Gilchrist Tree Farm. This new bill offered a framework to permanently protect Skyline Forest—with the owner allowed to develop a small portion of Skyline Forest, in exchange for selling the remainder of the forest to the Land Trust at timber prices, rather than an inflated real estate price. Skyline Forest's owner was given five years to act on the legislation. The clock started ticking.

Unbeknownst to us all, other clocks were ticking. The first a devastating recession that undermined the real estate development economics that were the basis of HB2228, and the second a series of large forest fires that would burn nearly a third of Skyline Forest. Meanwhile, the Land Trust continued working to support our allies at the Oregon Dept. of Forestry and The Conservation Fund to ensure that the bulk of Fidelity's Gilchrist Tree Farm would be conserved as a State Forest. Those efforts would eventually result in the creation of the Gilchrist State Forest in 2010—the first new state forest in more than 60 years.

With the clock counting down, the legislation expired in 2014. Instead of acting on the conservation opportunity the 2009 bill provided, the owners of Skyline Forest quietly sold Skyline Forest, along with the remainder of their Central Oregon timberlands in a "bulk sale," to Whitefish Cascade Forest Resources, LLC. "Having spent years working on this project, we were obviously disappointed," says Brad Chalfant. "However, these kinds of setbacks aren't unusual or unexpected. The Land Trust remains committed to doing everything we can to permanently conserve Skyline Forest."

Five years later, in 2020, Skyline Forest remains unprotected. But the momentum built over the years "effectively protected Skyline Forest during a key period in which productive forest lands were being rapidly subdivided and destination resorts built," says Brad Chalfant. "Our community really made a meaningful difference by coming together to rally around Skyline Forest when it needed it most. We're confident that when the forest needs protection in the future, the community will continue to stand with us to protect Skyline Forest."

That small beginning of an idea continues. The forest of support remains. The Land Trust waits patiently, just like a tree. And someday in the future, maybe soon, the idea will sprout and reach towards the heavens once more, and find the sunlight it needs to grow into a forest of protected trees.


Learn more: