With schools, offices, businesses, and restaurants closed, daily life in Central Oregon has been altered dramatically. During this time of isolation and change, the natural world offers great ways for us to pause, adapt, and reconnect. Here are ten ways to connect with nature to refresh and reinvigorate yourself:


1. Watch - Whether you are watching from a window, you're on your porch, or you're on your favorite path, spend your time simply taking in what is around you. Watch the clouds roll by, the snow gently melt, the birds flit from branch to branch, the water as it flows downstream, or the stars as they scroll across the night sky. Taking just a moment to watch our world can remind us to be present in the moment and appreciate the delicate nature of the world around us.
2. Rest -In a world of go, go, go--we have been forced to stop. One thing we do have now is time. Everywhere we turn we are being told to listen, look, and take in more news, more articles, and more advice. These can be stressful times with so many things on our minds, which also means it can also be the perfect time to find rest. Studies have shown that connecting with our natural world improves short term memory, helps us to de-stress, reduce inflammation, and maybe even fight depression and anxiety. Taking a moment to rest won't just help you recover from yesterday, and get through today; but rest now will help us make better decisions and find more creative and thoughtful solutions for our future.

3. Listen - Taking a moment to focus in on one of our senses can help center yourself. In listening, we often find some peace and quiet, though, we'll warn you, once you find a quiet place outside you may begin to hear more than you might've imagined! The birds are singing, bees are buzzing, the snow is melting, and if you give yourself long enough to sit in outdoors you may even hear the gentle wind. I wonder what the wind would say in a time like this?

4. Play - When days feel heavy and there are uncertainties all around, laughter can truly be a good medicine. Can you take a moment to play? Whether you're throwing the ball for Fido, dancing in our empty and quiet streets, creating a snowperson, breaking out the old hula-hoop, or simply relaxing into a sweet smile, lightness can bring with it a sense of hope, and we could all use some hope!

5. Read - Once your fingers are frozen and you simply must head back inside, connecting with the world around us doesn't have to end. Books provide an awesome way to visit another place and learn all about its natural history. Try choosing a book from a new author with a different perspective. Here are a few suggestions from our staff!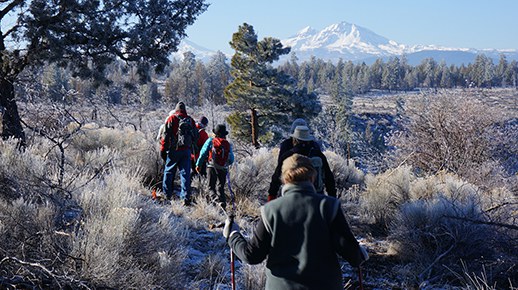 6. Walk - Getting outdoors doesn't always mean summiting mountains, climbing rocks, or doing the extreme. For many of us, getting outdoors is as simple as taking a stroll outside. Going on an 'urban hike' or strolling the sidewalks of your neighborhood can help you notice things you may never have noticed before. Watching birds, critters, or even bustling people from a sidewalk can be just as exciting as the activity you might encounter while walking a forest path. Just don't forget to continue practicing social distancing and stay 6 feet apart!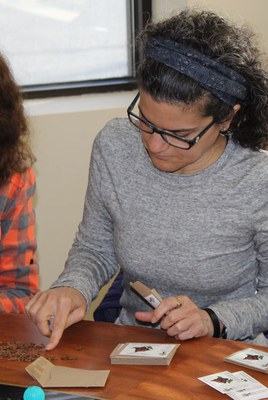 7. Start Fresh - Spring is here, and the hopeful new leaves and buds are making us hopeful for new growth. Did you plant those milkweed seeds we gave you? Learn how you can plant native blossoms in your own backyard to help butterflies, bumblebees, and other pollinators to keep Central Oregon's lands healthy. Whether you are tending to healthy plants, creating healthy soil, or pulling invasive weeds, gardening is a great way to connect with the land and help create a healthier community.

8. Write - Bringing a pen and notepad into nature is a great way to train yourself to notice things more closely. It's also a great opportunity to reflect and jot down hopes for the future. Whether drawing, writing, or taking quick notes, you'll have something to look back upon and remember how much you, the places you write about, and the moments you've recorded have changed. Not sure how to get started journaling? Check out these tips for a place to start!


9. Create - No art experience necessary. It is no secret that Central Oregon is profoundly beautiful. From the high peaks of the Cascades to the sagebrush seas and everything in between. Creating art is a great way to connect with the land and yourself in a new way while taking in the beauty that surrounds us. Whether you are making a painting, taking a photo, or doing a simple drawing, capturing the beauty of our land helps us to fall more in love with this place. (Even if no one else ever gets to see your creation.)
10. Breathe - Whether it is a minute or an hour, breathing in our clean air is good for the body, mind, and heart. Simply step outside and take it all in.



Explore more: